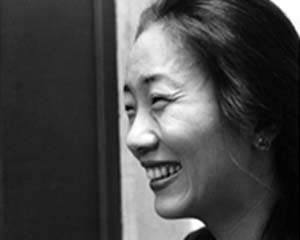 After the raves from the first and second New Vision Florida/Brazil Festivals in 1995 & 1996, Susana Yamauchi returns to Miami from São Paulo to choreograph and work in residence.
In her first U.S. appearance in 1995, Susana performed her stunning 50-minute solo A Flor da Pele. In addition, in 1995 she worked in residence in Miami for three weeks choreographing a new work for three women of the Miami DanceWave Company and teaching. In 1996 she performed the second part of her trilogy The Occult Face, taught at FIU and participated in the seminar component of the New Vision Florida/Brazil Festival. In 1997 Susana returns to work in residence and to choreograph the final part of her trilogy based on her Brazilian/Japanese heritage.
Born in 1957 in Brazil to Japanese parents, Susana studied ballet for six years. Her formation as an artist included, among others, periods of study in Brazil with Escola Municipal de Bailado (1967-1975), Ballet Stagium (1972-1976), in the U.S. with Alvin Ailey Dance School (1979), Merce Cunningham (1979), Louis Falco Dance Studio (1979), Asakawalker Dance Studio (1979), Bale Israel Guiser (1989-1984), Jennifer Muller and the Works (1984-1985) and Paul Taylor Dance Company (1985). Her professional debut was with Ballet Stagium in 1976 in Brazil. In the late 70's she had a Fulbright Fellowship to New York City, toured with the Larry Richardson Company in Europe and received a Japan Foundation Fellowship to Japan in 1995.
Her own choreography includes:
- Kiuanka (APCA Prize - Best Dancer and Concert of 1981)
- Karada for City Ballet Company of São Paulo (1983)
- Absurdos for City Ballet Company of São Paulo (1984)
- Malefor the Ballet company of the Castro Alves Theater in Salvador, Bahia (Carlton Dance Festival (1987)
- Castelo Ra-Tim-Bum for Radio Cultura and TV Cultura in São Paulo (1990)
- Danzon for Grupo Terr a Vista (1993)
- Preto no Branco for Grupo Terra a Vista (1994)
- A Flor da Pele (1992), (Awarded best solo by the São Paulo Critics Assoc. 1995) U.S. premiere at the 1995 New Vision Festival, Miami
- Danças Brasileiras (1993)
- Curinga (1993)
- Interactions for Arte Cidade (1994) & SESC Pompeia (1997)
- A Face Oculta, Brazil (1995 & 1996), (Awarded best solo by the São Paulo Critics Assoc 1997) U.S. premiere at the 1996 New Vision Festival
- premiere for City Ballet of São Paulo (September 1997)


Back to New Vision Dance Concerts
Interactions is a special project, a dance/theater piece designed to bring attention to youth in transient and homeless situations. It was created by Susana Yamauchi, a Fulbright and Japan Foundation Fellowship scholar, dancer and choreographer of Brazilian/Japanese heritage. The work not only brings attention to an unsolved and difficult social issue in Brazil, it also brings attention to our own homeless and transient situation, affecting the youth of our community. Interactions is a riveting work which gives the viewer a chilling inside view into the life of youth surviving on the marginal edge. In viewing this work one has the feeling of actually being there. The jarring reality of surviving on the streets brings attention to our own homeless and the youth impacted in our own community in transient situations. The work was created for youth and originally performed in São Paulo, Brazil. In Miami it will be performed by Florida International University dance students. From mid-October to mid-November, Susana will be in residence in Dade County as part of Tigertail's third annual New Vision Florida/Brazil Festival. It is during this residency that Interactions will be set on Florida International University Dance students. Susana will rehearse with and set this dance/theater work on FIU students in preparation for public performances in outdoor locations.
Interactions is adaptable and can be performed almost anywhere. From November 1997 - June 1998, Interactions will be performed in numerous Dade locations, from shelters, to shopping centers, to schools, to public outdoor locations.
Tigertail is producing the project as part of its third annual New Vision Florida/Brazil Festival. Production assistance comes from the FIU Dance Department and INDAMI.
The goals of this project are:
- to develop the use of the creative process to promote cross-cultural understanding and communication.
- to use the art of dance to inform and enrich our community and facilitate awareness and change within our own community.
We believe as stated by Ernest Boyer of the Carnegie Foundation, "The arts are an essential part of human experience; they are not a frill. Now, more that ever, all people need to see clearly, hear acutely and feel sensitively though the arts. These skills are no longer just desirable; they are essential if we are to survive with civility and joy."

Back to New Vision Dance Concerts