Gary Lund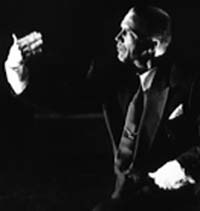 Gary Lund, a native Iowan, has been a dancer for over twenty-five years. He began his dance career as a member of the Nancy Hauser Dance company in Minneapolis, Minnesota. In 1978, Mr. Lund moved to New York City were he became the co-artistic director of two duet companies, SHORT SUBJECTS and TWO'S COMPANY. TWO'S COMPANY grew to become a seven-member dance troupe call GLENN LUND DANCE.

Gary has been awarded artistic fellowships for his choreography by local, state agencies and the National Endowment for the Arts. His works have been presented at the Joyce Theater, Dance Theater Workshop and the Staten Island Ferry, as well as other venues in New York city. His work has also been presented at major European festivals such as the Dance Umbrella, London; Autumn de la Dance, Paris; and the Holland Festival in Utrecht, Holland. In 1988, Mr. Lund's choreographic journey led him to Tampa, Florida where he began a collaboration with composer John D. Mitchell. Together, they created three evening-length programs called MOVEMENT INITIATED SOUND EFFECTS. Using burglar alarm sensors that were connected to a computer, they were able to play a musical score live while dancing together in the space. The final collaboration, SMARTER THAN DOGS also used computer-generated visual images that were shown on three large screens and manipulated by the performers.

In the Fall of 1990, Gary moved to Miami to teach and get his BFA degree at the New World School of the Arts. He was a collaborating member of BAD DOG DANCE and guest performed with Gerri Houlihan and Dale Andree. In 1992 he was asked to be the Rehearsal Director and a performer with MEN DANCERS, THE TED SHAWN LEGACY. This group of nine men toured nationally, as well as internationally to Holland, Russia, Siberia and Estonia. At the end of this tour, he was named artistic director of BALLET RANDOLPH, dba DANCEWAVE. He has taught at The Juilliard School, University of Rio de Janeiro, Laban Institute for Movement Studies, the Centre International de la Danse among others. In 1995, he served as the festival producer and coordinator of the national CORD Conference in Miami and the dance producer and coordinator of the Bay Front Park concert series. For the past four years, he has worked at the National Foundation for the Arts Dance Coordinator. In 1996, he received a NEA New Forms Florida award. In May of 1996, Gary choreographed a solo for himself and a group work and performed in the 30th Anniversary of the Nancy Hauser Dance Company in Minneapolis, Minnesota. He is in his fourth year of teaching at Florida International University.

Back to New Vision Dance Concerts