Alfredo Triff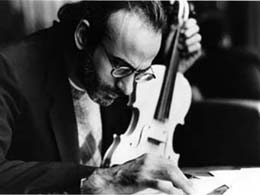 ACADEMIC BACKGROUND
University of Miami, 1996
	Ph.D. Philosophy
University of Miami, 1988-1990
	Master's degree in Music
Montclair State College, New Jersey, 1985-1987
	Mathmatics graduate courses
Manhattan School of Music, New York, 1983-1985
	Violin Performance
Edison College, New Jersey, 1982-1986
	B.A. in Humanities
Institute Superior de Arte, Havana, 1977-1980
	M.A. in Music
University of Havana, 1980
	B.S. in Mathematics
Institute Nacional de Arte, Havana, 1976
	B.A. in Music



PROFESSIONAL
1991-Present: Assistant Professor of Philosophy-Humanities at M-DCC Wolfson

PUBLICATIONS
1997: Doctoral dissertation abstract -  University of Miami.
1996: Rending Conceptualism & Reality: Appearing in MPF, catalog for Steve Bollman's, Ambrosino Gallery
1995: Juan-Si: Altars Alter: Exhibition Catalog M-DCC Interamerican Campus, by Juan-Si 9/21- 12/1/95
1995: The Civil Society after Communism: (Editorial work for Catalogo de Letras) - A literary magazine published in Miami.
1994: Dialogo o Embargo: Mala Fé Buena Fé e lntransigencia (Article published in Catalogo de Letras - Same as above.
1994: Ayer en Miami: Objetividad e lntransigencia (Article Published in the Opinion Section of El Nuevo Herald)
1993: Que Podemos Hacer?: Un Reporte de Urgencia - (Imprimatur Press, Miami) - A political-philosophical treatise based on the Cuban experience
1993: De Cuba a Cuba: El Arte Como Puente (Catalog text for exhibition at Cuban Museum of Art and Culture)
1992: La Bete - (Art Works, Miami) - feature interview, eight pages of original drawings and cover design of South Florida's Journal of the Arts.
1991: Art & The Interstice - first published book on aesthetics which explores the dynamics of artistic creation.

VIOLIN PERFORMANCE & COMPOSITION
3/97:   SpeechActs:Arias in a White Box - Performance for violin and narrator featuring Tom Pepper, Ambrosino Gallery, Miami.
11/96: Night of the Phantasmatic Purities - Set of five pieces for symphony orchestra - a tribute to the Miami Beach nightclubbing. Conducted by Tom Sleeper.
4/96:   Sucking Stones - Subtropics Festival. A piece for narrator and violin, featuring Tom Pepper.
11/94: One Thousand Nights - Kip Hanrahan's album featuring Don Pullen, Robbie Ameen, Ruben Blades, Jack Bruce and others.
2/93:   Exotica - Kip Hanrahan's album featuring Don Pullen, Jack Bruce, Arto Lindsey, Robbie Ameen and others.
1/93:   Radio City with Cachao & Co. - lst Violin/Concert Master.
11/92: Exotica - European Tour with Kip Hanrahan - Macedonia, Frankfurt, Brussels, Holland
7/92:   Andy Garcia Presents Cachao Lopez & His Mambo Orchestra - lst Violin/Concert Master - James L. Knight Center - Miami, Florida.
1991:  Homage to the Cuban Danzon - Performances at the Brooklyn Academy of Music and Lincoln Center - New York.
           Sudwestmusik - New Music Meeting '91 - Live in Mainz, Germany. A group of musicians from all over the world met and collaborated for two weeks.
           Kip Hanrahan Group - European Tour '91 - Tour thirteen European countries. 3rd Annual Subtropics Music Festival - World-premiere composition Interstice
1990:  Kip Hanrahan European Tour '90 - with guest artists Jack Bruce and Sting - Germany, France and Italy.
           Kip Hanrahan's Tenderness Album - Recording Session - New York City.
           Cuban Museum of Art & Culture - Solo Violin Recital - Miami, Florida.
           2nd Annual Subtropics Music Festival - Violin performance - Miami Beach.
           Miami Arts Asylum Presents - Alfredo Triff and Flores Chaviano - Improvisational violin and classical guitar - Cameo Theater, Miami Beach.
           1990 South Florida AIDS Quilt Tour - Improvisational performance with percussionist Nelson Diaz, Center for the Fine Arts - Miami, Florida.
1989:  Eddie Palmieri Album - Polygram Record's Recording Session - New York City.
           Southeastern Composer's League Forum - Violin performance - FIU
1987:  New Generation in Concert - Featured artist at Dade County Auditorium,
1979:  Autumn of Warsaw Festival - Ante Vivo Group - Violin performance - Warsaw, Poland.
1978:  Musican collaborations and seminars with composers Luigi Nono, Kristoff Pendercki and Leo Brower as part of the Casa de las American Interchange with foreign artists - Havana, Cuba.
1976-8:Co-founder and member of Grupo Arte Vivo, musical trio which grew to become one of the most recognized contemporary music groups in Cuba.

EXHIBITIONS
5/94:   Triff/Ray - Two-man exhibition of drawings at the Alliance, Miami Beach.
4/93:   Fuera del Juego - Group exhibition of Cuban artists at the Galeria Nacional de Arte Contemporaneo - San Jose, Costa Rica.
12/92: Cipher Theory for Art - exhibition with Gene Ray, Cuban Museum, Miami.
9/92:   Kill Your Television - Group show of video installations, screened tapes and video performances, curated bv Bill Orcutt for the Alliance For Media Arts, North Miami Center of Contemporary Art, North Miami.
1991:  Artists of La Bete - Invitational group exhibit at the South Florida Film Alliance
           Artists Pro Genesis II - Invitational group exhibit and art auction for terminal AIDS patients. Metropolitan Museum of Art - Coral Gables, Florida.
           Miami Arts Asylum 1-Year Anniversary Celebration - Cameo Theater.
           Beauty Occurs in the Interstice - A solo exhibition of mixed-media paintings and works on paper at the Borders Gallery - Coral Gables, Florida.
1990:  Sonata Allegro - Solo exhibit of paintings at the Garabato Theater - Miami.
1986:  Hispanic Artists Exhibit, Collection of drawings, Riveron Arts Center, NYC.

PERFORMANCE
1990:  Burial Performance piece with artist/musician Nelson Diaz, combining amplified violin & percussion, action painting, theater, video and human form.
1990:  Sonata Allegro - Premiere and month-long run at the Garabato Theater Miami.

PROJECTS
Black Box - A month long  conceptual intervention at South Florida Arts Center, consisting of weekly art exhibitions, performances, poetry readings, panel
discussions, and contemporary film series.  The space worked as a book and music store and coffee house. It featured artists such as Susana Baca from Peru,
Carmelita Tropicana from NYC and Regina Frank from Germany.

PERSONAL
Born:   Havana, Cuba
Speaks: Spanish, English, French, reading proficiency in German.

Back to New Vision Music Concerts