MPB-4




"Greatest Moments"


Co-presented with TV Maker. Sponsors: New Port Tours and Steak Masters Rodizio Style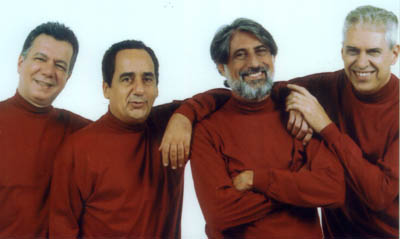 MPB-4, an outstanding history-making vocal quartet, presented a musical homage to the great Brazilian composers Vinicius de Morais and Chico Buarque–an un-forgettable evening of great Brazilian music.

"Since 1965, the vocal quartet MPB-4 has been creating novel arrangements of the best of Brazilian popular music. From their beginnings as a bossa nova vocal group, through the politically charged 70s and 80s, the MPB-4 has employed their unique and intricate 4-part harmonies to create definitive versions of songs by legendary MPB (Brazilian Popular Music) composers such as Gonzaguinha, Milton Nascimento, Ivan Lins, João Bosco, Chico Buarque, Caetano Veloso and others. The Rio de Janeiro-based group consists of four vocalists, Aquiles (Rique Reis), Magro (Antônio José Wagabi Filho), Miltinho (Lima dos Santos Filho) and Ruy (Alexandre Faria). Following in a tradition of vocal groups dating back to the Trio Irakitan in the 40's and the The Cariocas in 60's, the MPB-4 came of age during a very different era in Brazil, the tumultuous 70's, when a military government held power in Brazil and censorship was rampant. They often chose material from composers such as Chico Buarque and Gonzaguinha that contained veiled messages of protest, and composed many MPB classics themselves, including Amigo E Pra Essas Coisas (Friends Are for Such Things) and Deixa Estar (Leave It Be). In performance and on record, the group is known for their humor and wit, but primarily for the perfectionism they bring to the difficult art of four-part harmonies. They sing as one voice, basing their repertory on the bossa nova and samba-based rhythms of their native Rio. They are one of the true legends of the MPB era in Brazilian music." Dennis Miller, September 2000, WLVE 94 FM.

Back to FLA/BRA Schedule