THEATER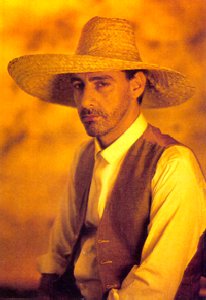 November 3 – 7, Wed. through Sun.
VAN GOGH by Elias Andreato
GableStage, Biltmore Hotel, Coral Gables
8 PM, Wed. through Saturday, 7 PM, Sun.
$28 general, $25 student/senior w. I.D.
Portuguese with English supertitles
After last year's stunning OSCAR WILDE, FLA/BRA brings back award-winning Brazilian actor ELIAS ANDREATO, this time with his one-man tour de force VAN GOGH at the beautiful GableStage. This theater piece, adapted from Vincent Van Gogh's letters to his brother Theo, illustrates the genius and intensity of this master painter. Performed throughout major festivals in Brazil, VAN GOGH ran for 2-1/2 years in Rio and São Paulo and in New York City at the Mabou Mines Toronado Theater, October 1998. Elias will also be in residence at the New World School of the Arts Theater Department. VAN GOGH was performed throughout Brazil: Curitiba, Brasilia, Campinas, Belo Horizonte, São José dos Campos and many other cities around São Paulo.
VAN GOGH approaches the painter's violent universe who, at 37 years old, committed suicide after of a life of repeated denial – denial of recognition as an artist, denial of love and denial of social companionship. In spite having sold only one picture during his life, Vincent Van Gogh's today is recognized as a master. Vincent Van Gogh was a relentless worker who knew only one job, painting. In addition to his prolific out-put as a painter, he also left about 800 letters. Most of these were to his brother Theo, but also to his mother, sister and other artists such as Emile Bernard and Gauguin. The script of this play searches Van Gogh's creative flow, his obsession for painting, his love for nature and for human life. The show illustrates the genius and intensity of this artist - his obsessions and his love of life.
VAN GOGH AWARDS
Elias Andreato received the prestigious Shell and Apetesp Theater Awards for Best Performance
Wagner Freire received the Shell Award for Best Lighting
Marcia Abujamra received a nomination for Shell Award for Best Direction.
"In this role of VAN GOGH, Elias Andreato is a diffused mirror of the artist - contradictory, irregular, singular. A beautiful show that exceeds the limits of the monologue in its interpretation and gains its place on the city stage."

--Folha de São Paulo/SP

"A chair, sheets of paper, candles, a straw hat and a superb actor – Elias Andreato - are enough to recreate the passionate and painful universe of the Dutch painter. VAN GOGH brings us the intensity of human drama from the artist's writing. Adapted from the artist's correspondence by director Marcia Abujamra Andreato's magnetism transcends the limits of the monologue, making Van Gogh one of the top productions of the season."

--Manchete/RJ

"Utilizing a few scenic elements – a chair, sheets of paper, candles and a straw hat – director Marcia Abujamra risked everything on the performer's skill, extracting the maximum expression from his use of these elements and the articulate text. The result is of one of the highest quality. The above properties lose their quality as accessories and turn into symbols able to translate feelings that transcend words. (…) There are innumerous images of great poetic strength, such as the one that closes the show – Van Gogh puts on a hat on which a candle burns, suggesting not only the sun that he loved, but also the light that he searched for in his own life that held darkness, depression and loneliness."

--Tribuna da Imprensa/RJ.